MERLION launches distribution оf Lenovo notebook computers
Company MERLION and Lenovo signed a distribution agreement. The first lot of IdeaPad notebook computers from Lenovo will appear in shops of MERLION as early as the middle of July.
08 july 2008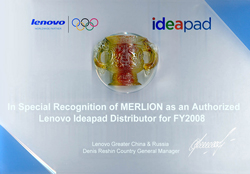 Company MERLION, the leading distributor of computer and digital devices in Russia, extends the spectrum of notebook suppliers and makes an announcement concerning the agreement signed with company Lenovo – the world's leader of notebook computer production. Within the framework of the signed agreement the MERLION acquires the status of the "authorized distributor of Lenovo IdeaPad products for 2008 fiscal year".
Lenovo IdeaPad series of notebooks is design for general user. IdeaPad notebooks are produced with wide-screen displays with diagonal of 11", 15" и 17" and distinguished by modern ergonomic design and improved functional characteristics:
Technology of owner face recognition VeriFaceTM;
Dolby® sound system Home TheaterTM;
frameless screens;
Multimedia center control with sensor panel etc..
The choice of MERLION as the new distributor is determined by great experience of company in sales of mobile computers and unsurpassed quality of regional display network area covering.
Within the framework of the agreement the MERLION has been confronted with the task to expand sale channels through active promotion of new vendor product on retail and regional markets.
Making comments on the signed contract, Denis Reshin, the general director of Lenovo agency in Russia, said: "We are glad that MERLION joined the list of our partners. We hope for effective cooperation and considerable growth of sales. Moreover, the whole of the IdeaPad line presents undoubted interest for end user. Every buyer can find in shop exactly the one of the Lenovo IdeaPad notebooks that satisfies his or her requirements".
General director of MERLION Vyacheslav Simonenko noted: "Notebooks are only one of the strategic points of growth of the MERLION assorTMent. Last year, sales of mobile computers through the MERLION channel grew more than three times. It is great honor for us to become a partner of Lenovo company, one of the world leaders in production of high-grade personal systems. The choice of Lenovo as official partner of 2008 Olympic games in Beijing (People's Republic of China) confirms the high quality of the manufacturer products, the will to win and innovative character of the brand".
Currently the regular program for support of second level partners is already in force for the dealers of Lenovo product. To achieve more effective marketing of products via the channel the vendor plans a number of new marketing measures directed on more effective brand acknowledgement.
In the new position MERLION will transmit to partners all programs of partnership support for the Lenovo second level. Also, as early as the third quarter of the current year dealers will get exclusive programs from the MERLION company.
First shipment of Lenovo IdeaPad notebooks is expected to be in MERLION stocks as early as the middle of July.