MERLION Broadens its Selection of Flash Cards and Flash Drivers
The MERLION Company has signed a formal agreement to cooperate with A-Data Company. The first consignment of Flash cards and drivers from the well-known manufacturer will be already in stock in the Company in early January.
16 january 2006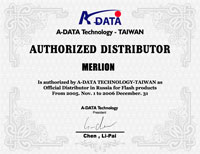 The MERLION Company, a leading Russian distributor of computer and digital equipment, broadens the range of Flash memory product suppliers and announces the beginning of its cooperation with A-data Company, one of the largest memory product and Flash peripherals suppliers.
As a result of the agreement, MERLION gains the Official A-data Flash product Russian distributor status, and the dealers get the opportunity to enjoy a wide range of high-quality Flash peripherals during a high selling season.
Within the cooperation framework, MERLION is to develop and promote the A-data brand in the Flash product segment, as well as provide access to Flash cards and drivers in the Russian computer market.
A-data Flash cards and drivers will be already available for MERLION's partners in early February.