New POSITRONICA stores in Arkhangelsk and Tula
Two new POSITRONICA computer retail stores open in Arkhangelsk and Tula next Saturday, March 25.
23 march 2006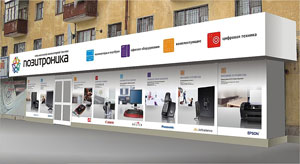 The first outlet of the POSITRONICA computer retail store chain opened in early March. By the end of the week, five more stores will have opened.
Like all POSITRONICA stores, the new outlets feature a bright and positive style. To make their opening quite an occasion, there will be a great entertainment program and some activities arranged for the residents of Arkgangelsk and Tula by such leading computer and digital devices manufactures as Acorp, APC, ATI, Digma, Jetbalance, LG, Oklick, Panasonic, and Western Digital. Besides, the residents will enjoy a display of fireworks in the evening.
On March 25, the two new POSITRONICA outlets welcome its customers at the following addresses:
119 Troitsky prospect, Arkhangelsk (in the shopping mall)
46 Krasnoarmeisky prospect, Tula.
The POSITRONICA national retail computer store chain is a joint project launched by MERLION and its dealers. For further information about the project, please visit:
http://www.merlion.com/eng/press-center/news/news-532/
http://www.merlion.com/eng/press-center/news/news-475/