POSITRONICA has already opened in Vologda and Omsk
Two new POSITRONICA computer retail stores opened in the Russian cities of Omsk and Vologda on Saturday, March 18. By the end of 2006, the POSITRONICA stores will have opened in fifty regions of Russia.
20 march 2006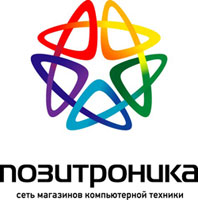 The POSITRONICA national computer retail store chain is a joint project launched by MERLION and its dealers. The new stores opened in Omsk and Vologda have the same features as all the other chain outlets: a wide variety of computer and digital devices and high-quality service. The color-coded labeling of each section in the sales area makes it easy for customers to navigate and spot the necessary product.
Designed in a positive and impressive style, the new stores in Omsk and Vologda opened with an entertainment program and some activities arranged by such high-profile computer and digital equipment manufacturers as Sony, ATI, Oklick, Jetbalance, and Digma. The opening day ended with a firework display.
So, welcome to the new POSITRONICA stores:
150 Leningradskaya st., Vologda
93 Krasny Put'st., Omsk
In March, there will be new stores open in Tula, Tolyatty, Ufa, and Arkhangelsk.
For the information about the POSITRONICA project, please visit web-site POSITRONICA.