MERLION Named the Top Russian Distributor of Components and Peripherals in 2005
The experts of the Computerra+ regional paper announced the results for the year 2005. MERLION has won the award for Best Performance in the Distribution of Computer Peripherals and Components for 2005.
19 may 2006
The editors of the popular Russian paper Computerra+, the regional project of the Computerra Publishing House, had studied the results of 2005 and announced the winners in four nominations.
According the Computerra+ experts and the representatives of regional computer companies, the following companies were the most successful ones in the development of the Russian IT-market: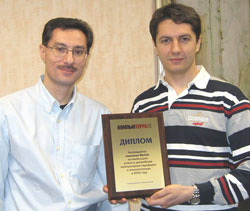 Intel (Unprecedented Contribution to the Development of Mobile Technology in Russia, 2005);
Fujitsu-Siemens (Most Dynamic Growth, 2005);
Samsung (Most Vigorous Promotion of the Brand, 2005);
MERLION (Top Performance in the Distribution of Computer Peripherals and Components, 2005).
Presenting a rewarding certificate to Mr. Vadim Yarotsky, Deputy General Manager for MERLION Strategy Planning and Marketing, Mr. Alexander Aliev, Manager of Computerra+ project, remarked that the award was made possible due to the hard-working editors and a large-scale survey of representatives from regional computer companies, conducted in twenty-six Russian cities early 2006.
MERLION would like to thank all regional partners for support and appreciation of their performance.