1,000 sq m. POSITRONICA Opens Its First 1,000-square-meters Outlet
POSITRONICA, the first national computer retailer, announced opening of its first outlet with the sales area of 1,000 sq m. The store opens in Chelyabinsk, November 18.
01 november 2006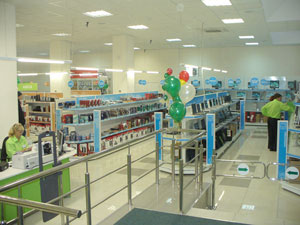 The national computer retailer POSITRONICA opened up its first outlet in March, 2006. But today the retailer has more than 60 stores in 50 regions of Russia.
All chain outlets meet the same standards and operate on the same principle: pleasant to choose, easy to buy. The future store in Chelyabinsk will be no exception. However, there is one important difference. This is going to be the first chain store to have the sales area of 1,000 sq m. Just to compare, the standard sales area of POSITRONICA outlets is 150-350 sq m.
In each shift about 40 highly-qualified store assistants will cater for the customer in Chelyabinsk. Store shelves will feature a full array of computer products in each category from monitors to processors of various leading manufacturers. The product range includes all models from traditional to the latest new ones. Due to a large sales area, the store will offer other equipments. These include game consoles, computer furniture and expanded range of accessories up to camera tripods. The store will also cover much wider range of audio, video and photo products as well as widescreen TVs. The outlet will be designed in a bright positive way with a certain color-coded labeling system of product groups.
The store is located in the center of Chelyabinsk close to the circus (27 Ulitsa Kirova). It is easy to locate and get to. The outlet has a spacious parking area with more than 250 spaces. There is even a helicopter parking for VIP customers :).
"There will be an expanded product range with more than 6,000 items in our spacious store," says Maria Artemyeva, POSITRONICA brand manager. "The large sales area made it possible to find more favorable spaces in the store for some product categories (e.g., widescreen TVs). There are now some stores in Tyumen which are similar in size to the outlet in Chelyabinsk. By the end of 2006, new stores will have opened in Barnaul, Orenburg and Novosibirsk. However, the store in Chelyabinsk will be the largest outlet in POSITRONICA chain this year".
High-quality service, professional staff and the broadest range of products in the town guarantee that customers will come back to POSITRONICA in Chelyabinsk.
As a last word, this is a second POSITRONICA outlet in Chelyabinsk. According to the company's executive, the town offers potential for opening up at least 2 new stores.