MERLION is Recognized as One of HP Best Partners at the Russian Market
Company Hewlett-Packard summarized results of 2007 and announced names of best partners. MERLION received rewards in 5 nominations!
13 february 2008
The Company Hewlett-Packard announced names of best partners following results of 2007. Winners were defined in categories: "Distributors", "System Integrators" and "Retail Partners".
The Company MERLION, the only company from 40 HP partners, invited to the event, received 5 rewards. Successes of MERLION were distinguished both according to separate product categories and business directions and in general according to the total volume of business.
The company received a "platinum" reward in the category "HP Personal Systems", which corresponds to the title of the "Best Distributor". MERLION became a winner in nomination of "Silver Distributor" in servers, data storage systems, printing devices.
A "Silver" reward was received for  general sale volumes of HP products  at the Russian market.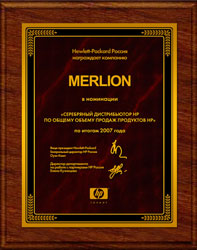 Exclusive merits of MERLION were distinguished in distribution of the network equipment ProCurve Networking.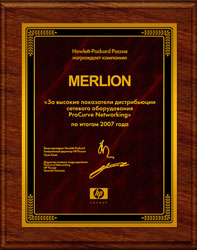 Official cooperation of MERLION and HP companies started 3 years ago. The companies concluded the first agreement on distribution of personal systems in 2005. Then cooperation was extended by a segment of printing and data digital processing devices. In 2006 a network equipment HP ProCurve Networking appeared in the distribution portfolio of MERLION. Within 2007 MERLION and HP signed distribution contracts on standard architecture servers and data storage systems, HP consumables and HP hardware platform for business-critical applications. Thus, at present day MERLION offers partners a full range of HP products.
Giving his comments on rewards receipt, Director General of MERLION company Vyacheslav Simonenko pointed out: "For us it is a great honour to become one of the best partners of HP at the Russian market. Today HP is the largest supplier of MERLION and is included into a number of our strategic partners.  Received rewards confirm a high priority of cooperation and interest of both parties in achievement of the results. I am sure that next year we shall manage to nail down successes of this year and to conquer jointly new peaks".