"POSITRONICA" Network is a Laureate of a Main Prize in the Sphere of Trade and Services "Russian Trade Olympus"!
A reward is awarded to "POSITRONICA" network for high dynamics of development.
03 march 2008

The Fourth Solemn Ceremony for awarding laureates of the main prize in the sphere of trade and services  "Russian Trade Olympus" took place on February 27, 2008 at the Palace of receptions of the  RF Ministry of Foreign Affairs Diplomatic Corps. Among laureates – a federal network of computer equipment shops "POSITRONICA", awarded with a prize for high dynamics of development.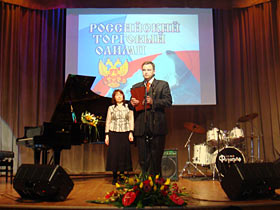 Receiving congratulations, Franchising Director of "POSITRONICA" network Roman Sychev said: "Keeping this reward in hands I'd like to thank everybody who took part in selection of nominees and chose us, thus having appreciated our merits. I'd like to declare with all responsibility that we do not intend to rest on the achieved things and we shall do our best in order to be a nominee next year not only in one nomination".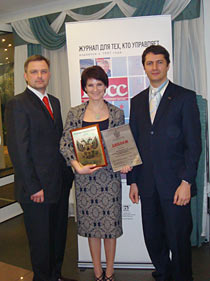 Roman Sychev, Franchising Director; Elena Lisovtseva, Head of Marketing and Advertising Department; Vadim Yarotsky, General Manager (MC "POSITRONICA")
At awarding laureates the Executive Vice-President of the Russian Union of Entrepreneurs and Employers
Vladimir Grigorievich Perederiy
noted: "Certainly it is a very important event for moral encouraging of companies in the sphere of trade and services, whose work contributes to strengthening of the state stability of Russia. Representatives of the best companies are present today here, which during the last year showed really high results of work and deserved this reward by right". Laureates received congratulations at the stage from the Chairman of the Consumer Market Development Committee of the CC of the RF (Chamber of Commerce and Industry of the Russian Federation)
Alexander Ivanovich Borisov
and the Head of Administration of the Federal Tourism Agency of the RF
Elena Evgenievna Nikolaeva
.
A Solemn Ceremony of the Prize award became a great and striking secular event. Worthy companies, competent jury and respectable mass media – all these are United Final Prize of the year in the sphere of trade and services "Russian Trade Olympus – 2008".
See a video report of the ceremony with the interview of the General Manager of "POSITRONICA" network Vadim Yarotsky (Alliance Media TV).
On the Prize "Russian Trade Olympus"
A main social prize in the sphere of trade "Russian Trade Olympus" is aimed at positioning of trade as the art, which lies in the basis of material aspect of interpersonal, international and intergovernmental relations. A Program is implemented at the expert-consultative support of the Chamber of Commerce & Industry of the Russian Federation, Federal Supervising Service in the Sphere of Consumers' Rights Protection and Human Welfare, Ministry of Economic Development and Trade of Russia, Russian Union of Industrialists and Entrepreneurs, press-service of regional administrations.