CONTEXT announces Distributor of the Year 2018.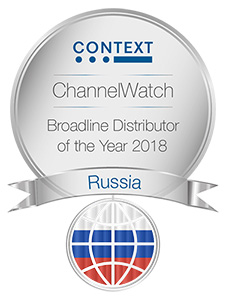 MERLION was nominated Broadline Distributor of the Year for Russia by CONTEXT as part of the 2018 ChannelWatch survey.
CONTEXT ChannelWatch is the world's largest online reseller survey, drawing insight into the behaviour, opinions and attitudes of a sample of over 5,000 resellers every year. Each participating reseller nominated the distributor they considered best overall, forming the basis for a ranking in each country.
"MERLION always wants to get in right on the sales channel, relying on long-term cooperation", said Anastasia Sokolova, Marketing Director, MERLION.  "We've been operating in the Russian IT market for over 25 years.  For this period, we've managed to build a very efficient and stable partner network, which we are constantly developing.  It's vital for us that our partners believe in our company as a distributor in this period when we are approaching a higher level together.  TOP 1 in the CONTEXT ranking is the recognition of the leading analysts in the industry based on an unbiased appraisal of opinions of major IT market players in Russia.  This is not just a channel user's opinion poll, but a study with a large number of metrics.  The resulted analytical data allows us to identify our weak spots, make conclusions and review our work with the channel.  In the future, we'll do our best to meet our partners' expectations and we will continue our work, focusing on their interests".
Howard Davies, CONTEXT CEO and co-founder said:
"We are thrilled to see MERLION win the Broadline Distributor of the Year Award. It is a testament to MERLION's dedication in serving the Channel, and how much their resellers appreciate their hard work. MERLION's focus on efficiency is essential for developing and sustaining a healthy Information Technology channel that can deliver excellence to consumers and businesses worldwide."
In the coming weeks, CONTEXT will be revealing insights from the ChannelWatch survey highlighting market trends within the channel and driving greater understanding of reseller relationships with both distributors and vendors alike.
About CONTEXT
CONTEXT's market intelligence, business analytics and opportunity analysis empower clients to optimise operations and accelerate tomorrow's revenues. With 35 years of industry partnership and experience in reporting on large datasets, CONTEXT delivers analytics at all points in the value chain, providing clients with actionable insights rooted in concrete data and a profound understanding of customer needs. CONTEXT was recognised as one of the UK's Best Workplaces™ by Great Place to Work®, and is headquartered in London, with over 250 staff across the world.