MERLION, The Best Distributor of the Year 2019 according to the iXBT.com audience
For the fifteenth consecutive year, the company has been awarded this status following the iXBT Brand - Readers' Choice poll.
11 march 2020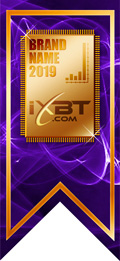 The editors of the iXBT.com website traditionally hold an iXBT Brand - Readers' Choice poll at the end of each year. Participants are invited to choose the most prominent market players, while "everyone was free to choose the criteria for himself: trust in the brand, its success in the market, new devices or technologies, everything that would make it possible to earn the Brand of the Year award."
4,368 respondents attended the poll based on the results of 2019. This year, there have been 38 nominations in which the vote was held.
Based on the results of the vote, MERLION again received the highest gold status in the "Best Distributor of the Year" nomination - first place with 20% of the votes*. "The "Best Distributor" nomination is one of the few in terms of the number of votes, but every vote we received during the survey is more valuable. The leader is still the largest distributor of Russia, MERLION," writes iXBT.
In addition to MERLION, the CITILINK electronic discounter (retail distributor project) has also been presented in the "Best Retailer" nomination since 2008. For the eighth consecutive year, the votes of the respondents put it in the top 3. This year CITILINK once again took an honorable second position with 22.5% of the vote.
Click here to view the full version of the "iXBT Brand 2019 - Readers' Choice" poll.
We thank the voters for high appreciation of our work!
*MERLION has received the Brand of the Year status since 2005 for the fifteenth time and is always on top 3 in its nomination