MERLION and Huawei have signed a memorandum of strategic cooperation
The companies plan to develop their business in the direction of network solutions and develop joint replicable products.
01 october 2020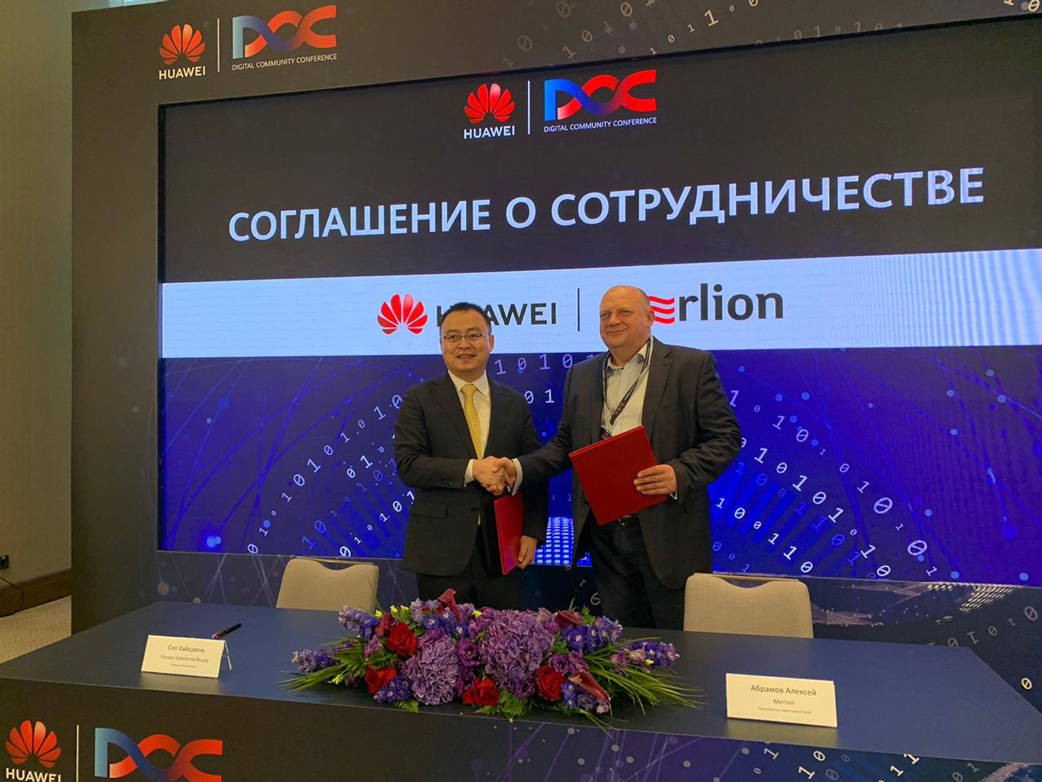 MERLION has signed a cooperation agreement with Huawei. The ceremony took place as part of the Huawei Digital Community Conference 2020 (HDCC 2020), taking place in Moscow from September 30 to October 2.
The parties agreed on strategic cooperation aimed at developing interaction in the field of information and telecommunication technologies, developing joint replicated products with the involvement of partners of both parties, as well as the joint promotion of Huawei solutions in the industrial, banking, transport, and oil and gas sectors of the economy. The companies focus on the development of areas of network solutions, storage systems, and data centers. The network direction (including, among other things, corporate wireless networks, private wireless networks LTE and 5G) was named as the main priority. The companies also intend to actively develop cooperation in the field of joint marketing to increase business volumes.
MERLION was represented by Alexey Abramov, Chairman of the Board of Directors, and Dmitry Spiridonov, Director of the Purchasing Department of Enterprise Systems. Huawei was represented by Xiao Haijun, CEO of Huawei Enterprise in the Eurasia region, Lai Lishun, director of work with partners of Huawei Enterprise in the Eurasia region, and Wang Chen, director of sales at Huawei Enterprise in Russia.
"Today, IT, like other industries in Russia, is going through a difficult period. Despite this, business and government continue to digitalize actively. The information and telecommunication technologies sector has huge growth potential and is a driver of economic development. In this regard, companies need to respond quickly to the time challenges and continue to follow the path of innovative development. Huawei, a world leader in IT solutions development, aims to provide all-around assistance in building a single digital space in Russia. Its business in Russia continues to develop actively. The new stage of our long-term cooperation with Huawei will allow our partners to get the widest opportunities for the implementation of innovative ideas and projects," notes Alexey Abramov, Chairman of MERLION's Board of Directors.
"Huawei has been working in Russia since 1997, increasing its presence in this region from year to year. Today, the Russian market is one of the prioritized and strategically important ones for us. Over the past three years, the volume of local purchases in Russia amounted to about $ 400 million, and in the next five years, we hope to increase this figure to 800 million. Huawei continues to cooperate with Russian research centers and invest in research and development. By 2025, the company plans to train about 50 thousand qualified specialists and open another R&D center. As part of its new strategy, TIGER (Technology, Industry, Growth, Ecosystem, Reliability), Huawei will contribute to the development of digitalization and the industry ecosystem in Russia in cooperation with Russian partners," said Xiao Haijun, CEO of Huawei Enterprise in the Eurasia region.