MERLION received an award from HPE
For successful cooperation and achievements at the end of 2020 within the partnership program.
01 march 2021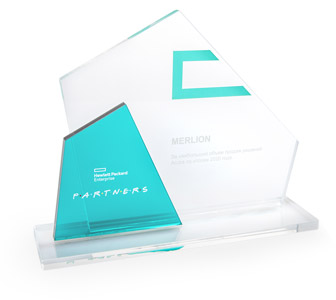 Hewlett Packard Enterprise, one of the largest technology companies in the world, hosted the Partners. New Episode 2021, where it awarded the partners who made the most significant contribution to the development of the HPE enterprise solutions business in the Russian market. MERLION was awarded the HPE Partner Award for successful cooperation and achievements at the end of 2020 and won the nomination "For the largest sales of ARUBA HPE network solutions in Russia."
By the end of 2020, MERLION became the first distributor of ARUBA network solutions in the Russian market in terms of turnover. The share of HPE solutions in the MERLION portfolio in the corresponding product category was 25.5%.
Hewlett Packard Enterprise and MERLION have long-term and successful cooperation. The main principle of interaction in this area is the promotion of Hewlett Packard Enterprise solutions, assembled under the ARUBA brand, with the maximum support of partners: organization of a full cycle of project management, HPE Financial Services financing program, training, marketing, and technical support.
The high level of ARUBA network solutions, combined with MERLION experts' competencies and partners' experience, makes it possible to successfully implement the broadest range of projects for the implementation of corporate IT solutions.
"We are grateful to the vendor for the high assessment of our work. We managed to achieve such excellent indicators thanks to the maximum customer focus and professionalism of the team. This award is a special honor for our company; it has become a meaningful confirmation that we are on the right track. We hope that our cooperation with HPE in promoting ARUBA network products will only grow stronger and richer with new knowledge and experience in the future," noted Evgeny Achkasov, Director of the Network Equipment and Telecom Procurement Department of MERLION.
"It is a great pleasure for us to present this well-deserved award as MERLION is a valuable partner for us. As a vendor, we always pay great attention to the development of partnerships, and this has always been and is one of the most important priorities for us. MERLION team's professionalism is the main competitive advantage that allows us to reach and maintain the highest levels and ensure high satisfaction from the use of our technologies", - noted Natalya Zenina, Aruba Partner, and Distributor Relations Manager in Russia.