AMD Corporation awarded MERLION
For effective long-term cooperation and achievements in the framework of the AMD Partner Program, the distributor was awarded the title of Executive Elite Partner 2018.
24 january 2019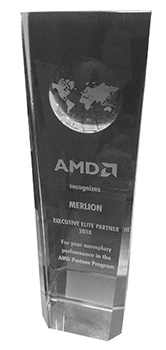 At the business meeting FUSION CLUB EVENT 2018 held in Verona (Italy) in late 2018, where key participants of the EMEA IT market traditionally gathered, MERLION received the Executive Elite Partner Award 2018 for effective cooperation and achievements in the framework of the AMD Partner Program.
The award was not the first one during more than 10-year cooperation between the leading Russian IT distributor MERLION and one of the world's largest developers and manufacturers of processors and microelectronics AMD. It is worth mentioning that the vendor has repeatedly noted the distributor's success in the category "graphics cards" and now, in addition to them, the Russian company is successfully promoting a wide range of AMD products in its region, including processors, RAM, cooling devices and SSDs. By 2017, the share of AMD processors in MERLION's portfolio in the corresponding product category was 16%. Processor sales during that period increased by 20% in monetary terms (year-on-year), and the distributor's forecasts for 2018 are even more optimistic – 90%! Other product categories also show positive dynamics. With regards to laptops, according to the end of the year 2018 the sales of devices based on AMD processors were 5% higher than in the past year (both in the unit and monetary terms).
"We are grateful for such a high assessment of our work, we are pleased that such "giant" of the IT market as AMD notes the distributor's contribution to the promotion of products and technologies of the vendor in the Russian market," said Tatiana Skokova, Distribution Director of Broadline Distribution Division of MERLION Company. "We intend to continue developing cooperation with AMD, actively work with the channel especially focusing on large project deliveries."