MERLION: "The Best D-Link Distributor in Russia"
By the end of 2018, the company showed the largest sales growth and took the leading share in the partner channel of the vendor.
04 april 2019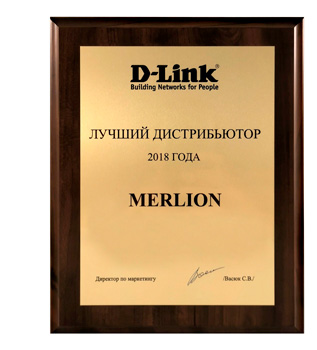 On March 22, 2019, the Russian representative office of D-Link, a world-famous developer and manufacturer of network and telecommunications equipment, held an annual regional conference in Ryazan (here the D-Link research and development center is located).
The conference was attended by the management of the Russian representative office and the heads of 25 regional offices of D-Link, representatives of distributors. The results of 2018 were summed up, development plans were announced and, traditionally, the companies that showed the best results in the Russian region were named.
As a distributor which showed the largest sales growth for the year and occupied the leading share in the partner channel, MERLION was awarded the status of "The Best D-Link Distributor in Russia" and received the corresponding award.
"The growth of sales by 5 % in the network equipment market shown by the distributor was a good indicator, and this figure brought MERLION to the leading position in the sales of D-Link," Sergey Vasiuk, Marketing Director of D-Link in Russia, said. "It is worth noting that MERLION, which in recent years has been very successfully developing the Value Added Distribution direction, managed to form an effective business model that allows resellers and system integrators not only to implement our box solutions, but also to deliver project supplies — and it is largely due to this position that D-Link is strengthening in the market from year to year."
MERLION has been an official distributor of D-Link in Russia for 16 years (since 2003). "We thank D-Link for the award and express the hope that even greater success of joint cooperation awaits us," Evgeny Achkasov, Head of MERLION's Network Equipment and Telecom Procurement Department, says. "In general, this manufacturer is one of our priorities in the distribution of network equipment. A reliable vendor that has been on the market for many years, has an extensive network of regional offices and 24/7 technical support service. The largest representatives of the corporate segment give charge over their IT infrastructure to this brand, and D-Link is always ready to help MERLION with supplies and equipment installation through its VAD division".