TP-LINK Award: MERLION - "Sales Machine"
In 2019, the distributor showed outstanding results and took the leading share in the sales of TP-LINK network equipment in Russia.
17 december 2019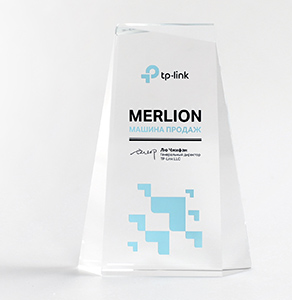 TP-LINK, the largest manufacturer of network equipment of the SOHO and SMB class, noted its best partners at its recent event in Moscow dedicated to the 10th anniversary of the company in Russia. The fastest-growing distributor was awarded in the "Sales Machine" nomination,  and it was MERLION, the company which showed outstanding results in 2019 and took the leading share in the sales of TP-LINK network equipment in Russia.
TP-LINK is a leader in the retail wireless network equipment market in the SOHO segment and, according to research company GFK, occupies more than 26% of the market. In the MERLION distribution portfolio in 2019, this vendor ranks first in terms of turnover among manufacturers in the group of wireless network equipment. Given the fact that the network equipment market does not show strong and sustainable growth, MERLION has been demonstrating TP-LINK equipment sales growth of over 60% since the beginning of 2019.
"In 2018, we restructured the Network Equipment business within MERLION, having separated the SOHO segment into a standalone division. We can say with confidence that this has had a very positive effect on our network equipment business; we have achieved outstanding success in the wide-profile distribution in this area, increased channel loyalty and significantly increased our market share," commented Tatyana Skokova, Distribution Director of Wide-profile Distribution Department at MERLION.
We want to remind you that the distributor's portfolio covers the entire range of TP-LINK products, including routers, switches, ADSL equipment, wireless solutions, Powerline adapters, signal amplifiers, video surveillance systems, "smart home", etc.
MERLION is an official distributor of TP-Link in Russia since 2015.